The U.S. National Buffalo Wing Eating Championship
National Buffalo Wing Festival at Coca-Cola Field, 275 Washington St, Buffalo, NY 14203

September 4, 2016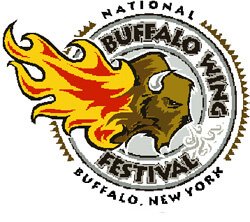 5:00 PM EDT

Great news for everyone except chickens: The U.S. National Buffalo Wing Eating Festival returns this coming Labor Day weekend. Major League Eating will once again join the Wing King himself, Mr Drew Cerza, in the late summer afternoon light at The National Buffalo Chicken Wing Festival. For countless years, Major League Eaters have known there is no better way to kiss summer farewell and to look to the fall than by eating a lot of chicken wings in Buffalo, NY, each and every Labor Day weekend.
Speaking of a lot of chicken wings, Joey Chestnut ate 205 Buffalo wings in 12 minutes to claim first place at the 2015 installment of this marquee event. He was at his brutal, simple, rhythmic best at the table; Chestnut will be returning to Buffalo this year to defend his title. Miki Sudo and Sonya Thomas settled for second and third respectively, while rookie sensation Gideon Oji again impressed in the wings discipline, finishing in fourth place.
The U.S. National Buffalo Wing Eating Championship is an event like no other. The greatest eaters on earth challenge themselves against the mighty chicken wing in the spiritual home of the Buffalo wing—the one, the only, Buffalo, NY. The faithful from the 716 and beyond descend upon Coca-Cola Field to bear witness. At the table or in the crowd—don't you ever miss it!
-Courtesy of Major League Eating