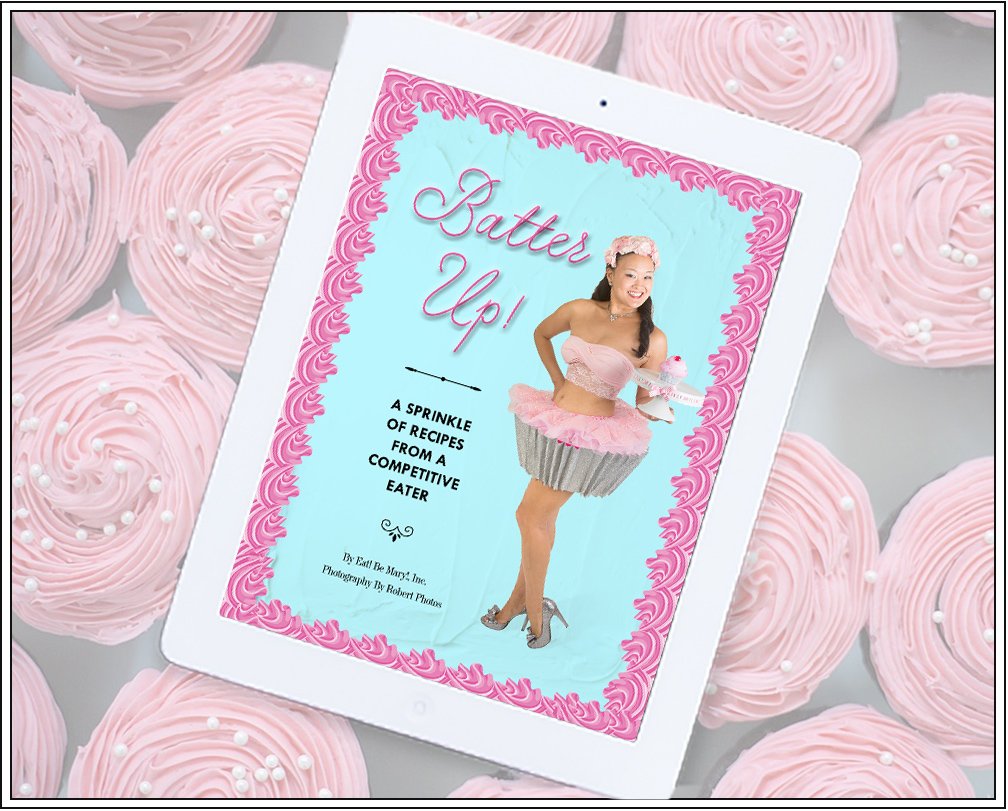 Crumb JOIN THE ADVENTURE
A Munch of Recipes Await!

Everybody eats! Most of us do it from the day we are born. And yet, we are quick to dismiss the expertise that comes from hours of practice. Embrace your inner superstar and step up to the plate for a serving of radiant recipes, tasteful tips, and a side-dish of humor – fresh from the kitchen of world ranked competitive eater, Mary Bowers.
Known throughout the Major League Eating Universe for her fabulous foodie fashions, Batter Up! is a visual feast for anyone who eats.
Crumb join the adventure!
Mary Bowers provides the competitive eating world with a sense of style and frivolity that makes even the most hardened fan smile. Her love of food is unmatched, and through this book we can get a glimpse into how the worlds of food and fun collide in her kitchen and yours to make the world a little bit better!
– Adam Sinclair, Publisher, Palm Beach Happening
I've been a competitive eater for seventeen years and traveled where the intestinal byways lead. Often shirts are stained with chili or key lime pie causes an upset stomach – basically, beauty is a rarity on the pro-eating circuit. Fashion is forgotten for napkins and food, once pristine, is punished, mashed, mooshed before mastication.
What makes Mary Bowers so unique is that her homespun clothing creations stand up to the spoils of consumption – they are Smithsonian Museum worthy – or at least should hang in the food court of the Mall of America. From hot dog clutches to hamburger high heels, she wears the food, not on her chin, like most of us, but like the beautiful collision of the runway and the buffet.
She has expanded not her waistline, although she is a fine Major League Eater, but her food knowledge and know how. Her recipes are meant for the gourmet, not the gourmand, but then again, a pro-eater can always triple the recipe during training season.
While you eat of Mary's creation, take pride in its delicate well-crafted nature, but most of all, take your time and enjoy!
– Crazy Legs Conti, World Ranked Competitive Eater, Media Personality
I am very particular about my humor. Some folks try to be funny; other folks are funny. Mary has a unique style that makes me laugh. She has a certain way with words that makes me smile. We know Mary from the Nathan's Famous Hot Dog Eating Contest on the Fourth of July, but there is more to her than just that. Much more. Get ready to laugh and to find some fun recipes that everyone will enjoy.
– "Jersey" Johnny Cimasko, 1070 TheFan, Indianapolis
Mary and I have been on the speed eating circuit for many years and I can tell you first hand, she's a food pop culture icon! She dazzles with her food-themed fashions & accessories, modeling, speed eating prowess, and her expertise in reporting from some of the biggest events in the world's most glamorous places! Now that she's sharing recipes from her Beverly Hills kitchen, you need to get this cookbook. It will enhance your life! Mary's the real deal folks, and I'm blessed to know her as a friend!
-Eric "Badlands" Booker, World Ranked Competitive Eater, Performing Artist
Mary Bowers is known as the "Fashionista of Major League Eating", with outfits that represent the food she is set to destroy, devour, and dominate. She rivals top fashion designers and competitors, showing women that they can be both elegant and savage at the same time. Mary is the perfect role model for young girls everywhere in an image conscious society.
-Juan "More Bite Rodriguez", World Ranked Competitive Eater, Physical Trainer
Share a taste of your world! Get the dish and join the conversation.
@EatBeMary!
Facebook | Twitter | Instagram
#EatBeMary #BeautyAndTheEats