Buffalo Buffet Bowl
National Buffalo Wing Festival at Coca-Cola Field, 275 Washington St, Buffalo, NY

September 3, 2016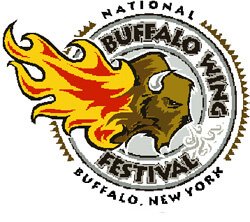 6:00 PM EDT
Major League Eating is proud to announce the return of the Buffalo Buffet Bowl to its annual slate of eating competitions. As has become firm tradition, it shall take place on the Saturday evening during The National Buffalo Chicken Wing Festival—the nation's pre-eminent celebration of the Buffalo wing and the Buffalo lifestyle.
The event is seen by some as the precursor to Sunday's US National Buffalo Wing Eating Championship. In no way, however, should it be viewed as an undercard. The Buffalo Buffet Bowl is a celebration of Buffalo Cuisine, a culinary trend based on only one ingredient and one method of preparation: Delicious stuff made more delicious. In years past, the event has seen MLE finest tackle an array of Buffalo Cuisine favorites, such as chicken strips, beef on weck and Buffalo-style pizza. These are the cornerstones of any decent meal in the 716.
At the 2015 event, Joey Chestnut faced five pounds of Buffalo foods and he ate his five-pound allotment in just seven minutes and 17 seconds. Sonya Thomas silvered, eating her five pounds in nine minutes and 18 seconds; Miki Sudo lagged by her standards for third, eating hers in 10 minutes and 32 seconds.
The Buffalo Buffet Bowl is soon upon us. Labor Day weekend. Buffalo, NY. The National Buffalo Chicken Wing Festival. An annual tradition like no other. At the table or in the crowd—don't you ever miss it!
-Courtesy of Major League Eating