Day-Lee Foods World Gyoza Eating Championship
Japanese American Cultural and Community Center (JACCC) Plaza, 244 S. San Pedro St., Los Angeles, CA 900122

August 20, 2016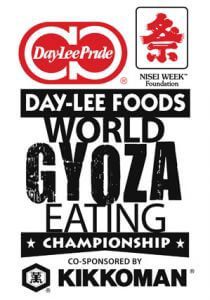 2:00 PM PDT

There is no need for superlatives or unnecessary noise here. The Day-Lee Foods World Gyoza Eating Championship is back for 2016. For years, this esteemed event has called the best eaters from near and far to do battle against one another and against the peerless Day-Lee Foods gyoza. This year promises to be no different.
Known in eating circles simply as "Gyoza," the event has emerged as a benchmark for eating talent. Succeed here and the man or woman in tomorrow's mirror loves you that little bit more. Fail here and you will mourn for your future, your hope and your name. As is custom at Major League Eating events, there is money on the line but here pride pays more than cash. And you can't buy Gyoza glory. It is earned, one gyoza at a time.
At the 2015 event, Matt Stonie earned it one gyoza at a time 343 times. That is correct: Stonie ate 343 Day-Lee Foods Gyoza in 10 minutes. Astonishing, yes, though not as astonishing as the World Record mark of 384, set by one Joseph C. Chestnut in 2014. (In fact, Stonie's 2015 haul is exactly 41 Day-Lee Foods Gyoza less astonishing. Not throwing shade here; facts are facts.) Chestnut's World Record mark will be on the line at the 2016 Championship.
Do you dare challenge the greatest eaters in the world? Do you want to see what happens when human excellence collides with soft Japanese dumplings? Can Chestnut's record be broken? Can he break it? Can Stonie? Or will someone else? So many questions. All will be answered and all will be held accountable at The 2016 Day-Lee Foods World Gyoza Eating Championship. At the table or in the crowd—don't you ever miss it!
-Courtesy of Major League Eating