73 Questions With Mary Bowers

July 2, 2017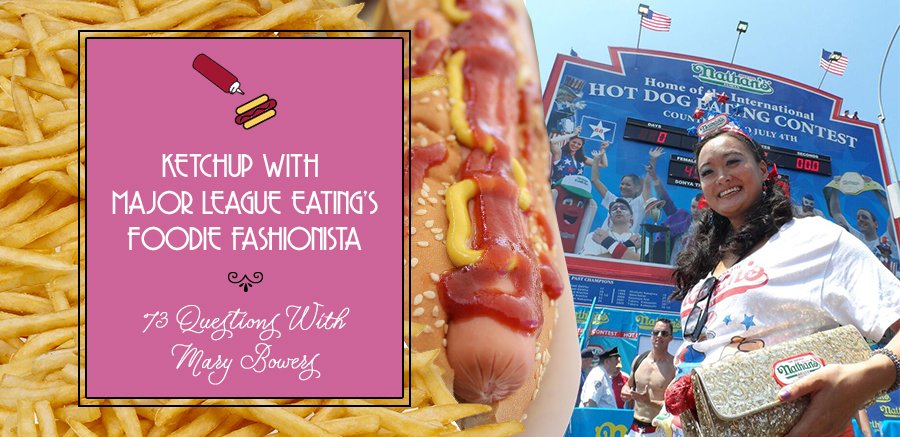 Photo by Michelle Lesco, Nathan's Famous Hot Dog Eating Contest 2013
Did you know 73 is the average number of individual noodles in a serving of angel hair pasta? No? Okay, we made it up. But we racked Mary's noodle and found her brain was made of a lot more than spaghetti! Like a well-topped hot dog, we found Mary to be layered with sweet and savory flavors. Without further garnish, here are 73 questions with Mary Bowers!
1. So Mary, what have you been doing today?
I wrote "thank you" notes. I like to start the day in gratitude.
2. Bike, car or feet?
Feet! Nobody can see my sparkly shoes when I'm inside the car.
3. Best advice you have ever received?
"When one thing in life moves, everything around it shifts to make space." It reminds me to accept change without fear or anxiety.
4. What's your spirit animal?
Firefly. Small and ordinary by day, bright and beautiful by night.
5. Do you have a secret hobby?
Collecting bunny home accessories. They multiply like real bunnies.
6. What's something you splurge on?
Costume design!
7. What's something you'd like to learn more about?
I'd love to learn more about climate science. I love nature and wonder about how I can do my part to respond to global warming. It's a challenging problem, but I have confidence in my generation. We are resourceful enough, innovative enough, caring enough to address it head-on.
8. What's something you'd like to learn to do?
Sew. I don't sew. I sketch my designs. Someone else makes them a reality.
9. Invisibility or flight?
Shape-shifting, so I can fly AND be invisible.
10. What movie makes you laugh the hardest?
"Butter," with Jennifer Garner and Olivia Wilde. It reminds me of the county fair where I grew up.
11. You can only dance to one song for the rest of your life, what song would it be?
Michael Jackson's "Thriller."
12. Your life is made into a movie — what's the title?
It would be a comedy, "Pie Not? – Another One Bites the Crust."
13. Who plays you?
Jamie Chung. I love her as Mulan in "Once Upon A Time."
14. What show would you want a recurring role on and why?
"Martha & Snoop's Potluck Dinner Party." Because it's Martha, Snoop, and dinner. What more could I want?
15. How do you balance work and play?
I don't. Life happens in waves. I ride with it. Work or play, nothing lasts forever. Take it as it comes.
16. How did you learn to design costumes?
Costumes have been part of my life from the beginning. I started playing with the clothes in my Mom's closet from the moment I was big enough to open the closet door. The adults in my life indulged my imagination. My dad would make silly hats for me from aluminum foil. My grandmother let me play with her makeup and jewelry. The costumes I design now are really an extension of those same creative skills from childhood put into a different context.
17. What's the last book you read?
"Taste: Surprising Stories and Science About Why Food Tastes Good," by Barb Stuckey.
18. Favorite pizza toppings?
Pepperoni, extra cheese.
19. What's your earliest memory?
The color yellow. My earliest memories are colors and shapes, rather than events or people. I would love to find out if that's how the brain typically develops in babies and toddlers.
20. What was your favorite birthday?
I have two of them every year. My parents celebrated both of my delivery dates – the one I was born and the day I was adopted. I get a party and presents on both, so I can't really choose a favorite. They both involve cake.
21. Biggest surprise you've had?
Being born? I was so cozy and warm before that happened. I still haven't fully recovered, yet.
22. What's the coolest thing about being a competitive eater?
Having a unique skill that opens conversations and creates connections with people I wouldn't otherwise meet. It's a privilege to be invited into someone's life simply because I'm being me.
23. Which competitive eating contest is the easiest to eat?
There are different challenges to any kind of food. If it is easy to swallow, it's probably going to be harder in terms of how much capacity is required to hold it. If the food is difficult to chew or swallow, it will be easier in terms of capacity, but more challenging in terms of speed.
24. Fork, spoon, or knife?
Spork
25. What's your next vacation spot?
Las Vegas!
26. What's your life motto?
"As in eating, so it is in life. Take it one bite at a time."
27. How do you stay inspired?
It's important to have a diverse group of friends and mentors. Some of them inspire me by having or doing the things I haven't yet experienced. They show me how to adapt and create those things for myself. Other people inspire me by allowing me to connect as an equal, by giving me a sense of belonging. And then there are some for who I am the one that inspires. Those are the friends who challenge me by asking questions, encouraging me to examine my choices, and to be grateful for where I am in life.
28. How do you stay motivated?
Café Americano with a splash of half and half.
29. What's your favorite quick food to cook?
Gas station cheese sauce and chili over a bag of chips.
30. What's your favorite labor of love to cook?
My Dad's chili. It makes me feel happy and connected to him. It doesn't take long to prepare, but it takes several hours to cook. It's perfect for parties.
31. What was your childhood fear?
Failure. I'm a recovering perfectionist.
32. If you had to describe yourself as an ice cream flavor, what would it be?
"Americone Dream" (Ben & Jerry's)
33. What's a fashion trend you're really excited about right now?
Millennial Pink
34. Favorite emoji?
😘
35. Muffin or cupcake?
Muffins ARE naked cupcakes!
36. What's a food or restaurant trend you're really excited about right now?
Delivery! Grub Hub, Uber Eats, Seamless… They're redefining the industry. There will always be a need for sit-down restaurants. People are social creatures. But it will be interesting to see how the trend toward on-demand delivery redefines some of those relationships.
37. What's a food or restaurant trend you'd like to see left behind?
Rejecting plates or bowls and replacing them with shovels, shoes, wood planks, hubcaps, lightbulbs, or buckets. There's a fine line between novel and ridiculous.
38. Where does the sorting hat put you? Gryffindor, Ravenclaw, Hufflepuff or Slytherin? Gryffindor, but I was nearly sorted into Slytherin.
39. Whoops! You're on death row — what's your last meal?
A Louis XIII Pizza from Renato Viola in Salerno, Italy. It's an $8,786 pizza. If I'm going down the river, someone is going to pay. I'm not above being petty.
40. What's your kryptonite?
A charming man.
41. Skiing or water skiing?
Roller-skating.
42. Favorite candy?
Skittles. They're on the Paleo Diet. They had rainbows back in caveman times.
43. Condiment you can't live without?
Butter.
44. You can have dinner with any 3 people, living or dead. Who are your dinner guests? Richard Branson, Dwayne "The Rock" Johnson, Martha Stewart
45. What meal do you serve?
Thanksgiving dinner – turkey, potatoes, cranberries, the works!
46. Advice you would give your 10-year-old past self?
Breathe.
47. Advice you would give your 90-year-old future self?
Keep your "Go Bag" ready. One hundred years from now, someone will be knocking on your door. They will want to know why you look like you're 30. They want to run tests on your body. Be ready to run.
48. Who is your fashion icon?
It's a combination of Barbie and Coco Chanel
49. Who is your foodie icon?
Colonel Sanders. I like the white suit.
50. What fictional world would you like to live in?
Landover, from Terry Brooks' "Magic Kingdom" series.
51. What's your go-to karaoke song?
Britney Spears, "Oops!… I Did It Again."
52. What would be the primary instrument played in the theme song to your life?
A baby grand because life is grand – even if it feels small sometimes.
53. Best present you ever got?
That time when my friend Steve gave me 14 different flavors of cotton candy for my birthday and I almost cried… Never mind. I definitely cried. It was the best gift ever! Cotton candy is my favorite.
54. Best present you ever gave?
I surprised my mom with tickets to see the World Burrito Eating Championships, complete with swag bag and fireworks. Not many people get to surprise their parents by showing up on a stadium jumbotron, so I'm super grateful I had the chance to do it.
55. Favorite ways to give back to the community?
I love spending time with high-school students. Volunteering in that setting is usually under the premise that I am there to mentor and inspire them, but I receive as much as I share. The current generation thinks more globally than their predecessors. They're aware of the challenges ahead, but they're generally hopeful. They inspire me to do the same.
56. What's in your handbag right now?
Lip-gloss, wallet, cell phone, business cards, comb, pen.
57. Favorite song-specific event dance? (i.e. the Macarena, the cha-cha slide, the dougie, the hora)
Bunny Hop
58. How do you spend a lazy day?
Playing with glitter and paint
59. Doing what makes you feel accomplished?
Walking in heels without falling on my face
60. What was your first job?
Selling programs and day sheets at the rodeo, so I could buy new school clothes.
61. What have you done that you're most proud of?
I faced severe depression and anxiety after I graduated college. Little things like getting out of bed, showering, or even eating seemed like a struggle. It can be tough to ask for help, to acknowledge that you're struggling like that. But after seeking treatment and making some changes in my life, I was able to get through it. I don't take anything I have for granted anymore.
62. What movie would you love to see remade?
"Harvey"
63. What movie do you hope they never remake?
"Rebel Without A Cause"
64. Your preferred grown-up drink?
A Mary-tini
65. Can you tell us a joke?
Q: Why did the tomato turn red?
A: Because it saw the salad dressing!
66. Best name for a dog?
Hairy Paw-ter
67. Best name for a cat?
Fleas Witherspoon
68. What's your favorite workout song?
Fifth Harmony "That's My Girl"
69. Are there any foods you hate?
Sesos (aka. beef brain)
70. What are you grateful for?
Cotton candy, costumes, and Juan More Bite
71. July 4th is the Nathan's Famous Hotdog Eating Contest… How will you spend July 5th?
Recovering from the after-party.
72. What can fans expect next from Eat! Be Mary!, Inc.?
Fans are invited to join me as I present the Hooters World Wing Eating Championship play-by-play on July 10th, on Facebook Live. The week will continue with behind the scenes looks at food and fashions from the 2017 Miss Hooters International Pageant Preview on July 11th and the Pageant Finals on July 12th.
73. What's next for Mary Bowers?
After July? Hopefully a nice, long nap!
————————
When Mary wakes up, what would you like us to ask her? Write your questions in the comments!
XO
— Mary & The Team At Eat! Be Mary!