The Salvation Army National Donut Day World Donut Eating Championship
USS Midway, San Diego, CA

June 7, 2019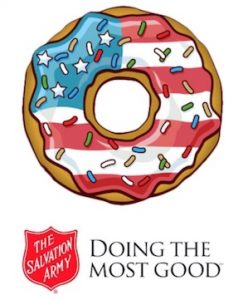 We come to you with great—and delicious—news: The Salvation Army National Donut Day World Donut Eating Championship returns to Major League Eating's slate of sanctioned eating contests for 2019 aboard the USS Midway in San Diego, California.
The donut as we know it was a World War One battlefield improvisation. They are the brainchild of Salvation Army "Lassies," women embedded with US troops on the Western Front who provided crucial support to the war effort. Helmets became deep fryers. Spent artillery shells became dough cutters. Empty wine bottles became rolling pins. And the donut as we know and eat it was born. When US soldiers returned home from Europe, they brought with them their love of the donut, and donut shops and bakeries across the land responded to meet demand. Today, food scholars all agree—no Salvation Army, no US donut culture.
Today, the Salvation Army's tradition of doing the most good is as strong as ever. All throughout Southern California, and beyond, The Salvation Army serves veterans in need with a full spectrum of support: employment services, emergency shelters, financial assistance, and more. Major League Eating is honored to join The Salvation Army and their partners BakeMark to raise money and awareness for programs that serve veterans on a daily basis.
This is The Salvation Army National Donut Day World Donut Eating Championship! At the table or in the crowd—don't you ever miss it!
This contest will take place at 10:30 am local time on Friday, June 7th, 2019, aboard the USS Midway, located at 910 N. Harbor Dr., San Diego CA!