Nathan's Famous Hotdog Eating Contest Qualifier
Nathans Famous, Cape Coral, FL

April 13, 2019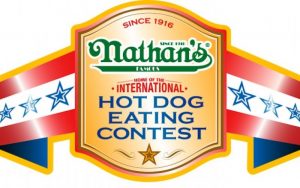 Cape Coral, FL, will host a sanctioned Nathan's Famous hot dog-eating contest on Saturday, April 13th, 2019, to qualify the champions who will compete in the 2019 Nathan's Famous Fourth of July International Hot Dog-Eating Contest. The top male and top female finishers from this qualifier will be invited to compete at the ESPN-televised finals at the original Nathan's Famous in Coney Island on July 4th, 2019. The Nathan's Famous qualifying tour is conducted each year in cities across the U.S. and beyond.
In recent years, an estimated 35,000 fans have made the pilgrimage to the corner of Surf and Stillwell Avenues in Coney Island to watch the Nathan's Famous Fourth of July Hot Dog-Eating Contest in person. At the 2018 event, Joey Chestnut of San Jose, CA, ate 74 Hot Dogs and Buns in 10 minutes to set a new World Record. Miki Sudo of Las Vegas, NV, won the Ladies' Title with 37 Hot Dogs and Buns.
This contest will take place at 1 pm local time on Saturday, April 13th, 2019, at Nathan's Famous Cape Coral—1897 Del Prado Blvd S, Cape Coral, FL 33990!