The Salvation Army National Donut Day World Donut Eating Championship
Santa Monica Place, 395 Santa Monica Place, Santa Monica, CA 90401

June 2, 2017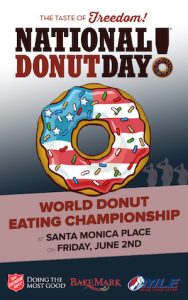 Major League Eating is proud to announce a delicious new addition to our 2017 slate of sanctioned eating Championships. The Salvation Army National Donut Day World Donut Eating Championship is coming to beautiful Santa Monica, CA, this June 2nd. The world is on notice.
The event is a celebration of National Donut Day. This occasion was established in 1938 by the Chicago Salvation Army to raise much-needed funds during the Great Depression, and to honor the work of World War I Salvation Army volunteers who prepared donuts and other foods for thousands of soldiers. It is hard to imagine a United States without donuts but such was the case prior to World War I. The donut as we know it was a battlefield improvisation, crafted by Salvation Army "Lassies," women imbedded with US troops on the western front who provided crucial support to the war effort. Helmets became deep fryers. Spent artillery shells became dough cutters. Empty wine bottles became rolling pins. And the donut as we know and eat it was born. When US soldiers returned home, they brought with them their love of the donut, and donut shops and bakeries across the land responded to meet demand. Today, food scholars all agree—no Salvation Army, no US donut culture.
Today, the Salvation Army's tradition of caring for our servicemen and women is as strong as ever. In Southern California, the Salvation Army operates numerous homeless shelters to help veterans get back on their feet, including Bell Shelter—one of the largest homeless shelters west of the Mississippi—and The Haven, a homeless shelter exclusively for veterans located in Los Angeles. Major League Eating is honored to join the Salvation Army to help bring attention to their considerable work.
This contest will take place at Noon on Friday, June 2nd, 2017 at Santa Monica Place, 395 Santa Monica Place, Santa Monica, CA 90401