Nathan's Famous Fourth of July International Hot Dog Eating Contest
Surf & Stillwell Avenues, Coney Island, Brooklyn, NY

July 4, 2017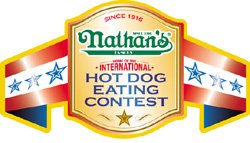 The Nathan's Famous Fourth of July International Hot Dog-Eating Contest will take place in Coney Island from 11 am to 1 pm on July 4, 2017 at the Nathan's Famous flagship restaurant in Brooklyn, NY.
In recent years, an estimated 35,000 fans have made the pilgrimage to the corner of Surf and Stillwell Avenues to watch the Nathan's Famous Fourth of July Hot Dog-Eating Contest in person.  The ESPN telecast of the event routinely draws an audience of millions of viewers. As part of the event, Nathan's Famous will make a donation of 100,000 Nathan's Famous hot dogs to the Food Bank for New York City, as it does each year.
In 2016, Joey Chestnut set a Coney Island record on the Fourth of July when he ate 70 Nathan's Famous hot dog and buns to reclaim the Mustard Yellow Belt and earn his ninth title. Miki Sudo of Las Vegas, NV, won the Ladies' Title with 38.5 Hot Dogs and Buns—her third straight victory.
About Nathan's Famous, Inc.
Nathan's is a Russell 2000 Company that currently distributes its products in 50 states, the District of Columbia, Puerto Rico, the U.S. Virgin Islands, Guam, the Cayman Islands and ten foreign countries through its restaurant system, foodservice sales programs and product licensing activities. Last year, over 500 million Nathan's Famous hot dogs were sold. Nathan's was ranked #22 on the Forbes 2014 list of the Best Small Companies in America and was listed as the Best Small Company in New York State in October 2013.
For additional information about Nathan's Famous please visit nathansfamous.com
2017 broadcast information. All listings below are for the Eastern Time Zone. Check local listings for ESPN2 and ESPNNews.

UPDATE: Here is where you can find The Nathan's Famous Hotdog Eating Contest Women's Division ESPN3 listings — Click Here and please note that ESPN3 is a web channel.