Once Upon A Kitchen

March 27, 2017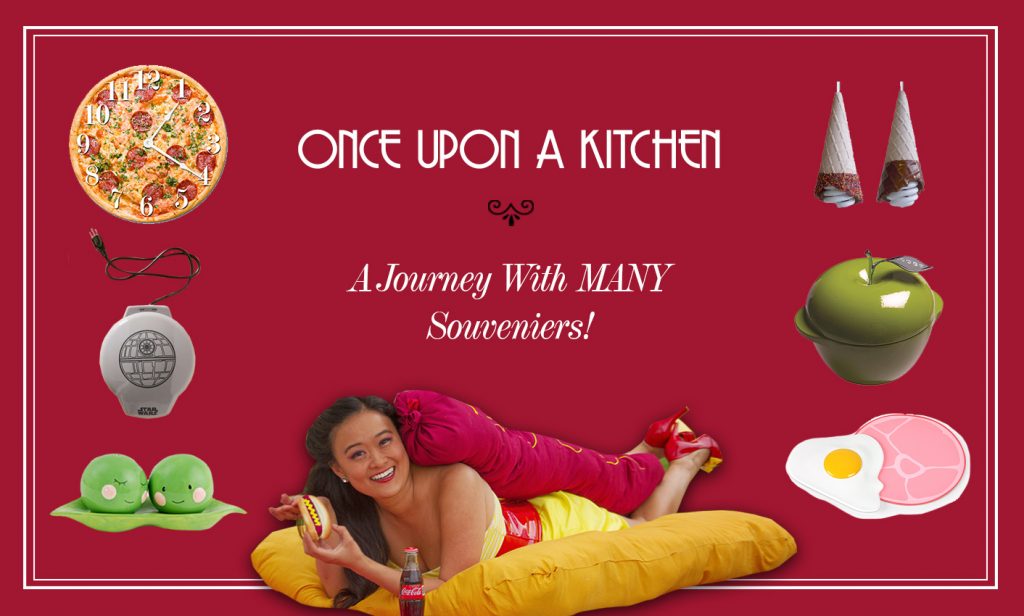 Once upon a time, there was a girl named Mary. Every morning she would wake up, blink her eyes, then stretch her arms before making her way to the kitchen for breakfast.
First priority of the day? Tunes to get the energy going, starting with "I Hold Your Ham".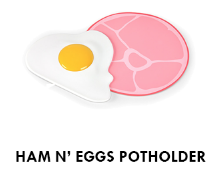 Ham N Eggs Potholder & Pan Scraper, Fred and Friends, $15
With so many delicious choices in the pantry, she waffled for a moment before deciding on going to the dark side for her morning meal. The Force was with her as she devoured some delicious death stars, covered with syrup.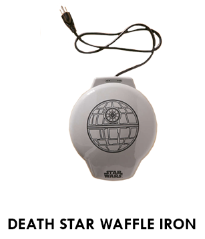 Death Star Waffle Maker, ThinkGeek, $40
Once the dishes were cleaned, she skipped up the stairs, turned on some lamps.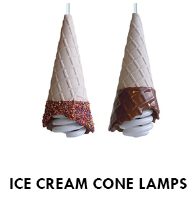 Ice Cream Cone Lamps, Alex Garnett, $65
Then sat down to write.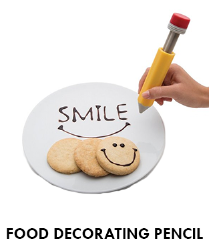 Write On! Decorating Tool, Fancy, $17
She wrote about the time she battled thirteen ninjas and claimed victory over the infamous Baker's Dozen.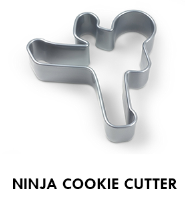 Ninjabread Men Cookie Cutters, Fred & Friends, $15
And her spaghetti western adventure…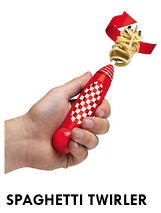 Twirling Spaghetti Fork, Amazon, $15
And the time when she mustard the strength to ketchup to the French Fry Kid…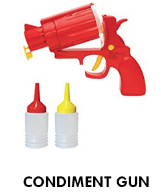 BBQ Condiment Gun, Fishpond.com, $25
Mary glanced up from her writing. Where had the time gone? With all of the cheesy stories, she had forgotten it was time for lunch!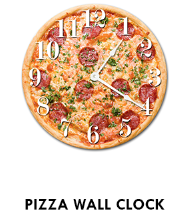 Down the stairs she bounded like a bunny. She didn't carrot all how silly she looked. She was ready to turn the tunes back on and "Whisk It, Whisk It Good".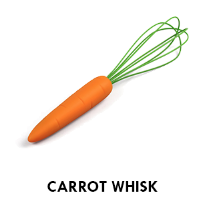 The Carrot Whisk, Fred and Friends, $15
"Well, how do you like them apples?", she thought to herself as she sliced some fruit and tossed it into the pot. "I think it needs some cinnamon…"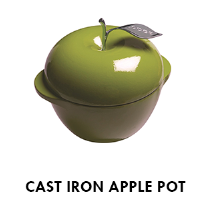 Cast Iron Apple Pot, Katom, $64
Her puppy, Frankie (short for "Frankfurter") gazed at her for a moment. Her pet was being exceptionally true to his namesake. Mary was baking apples and Frankie was begging for hot dogs.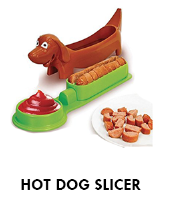 Hot Dog Slicer/Cutter, Houzz, $9
Once Mary had finished lunch, she pondered the pastabilities for the afternoon.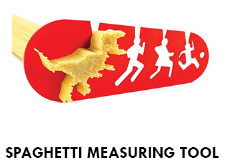 T-Rex Spaghetti Measuring Tool, Fancy, $12
She texted her best friend, Juan More Bite. Juan in a melon, he knew just how to make Mary smile.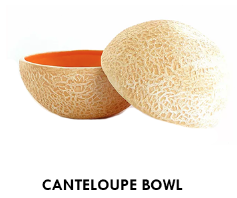 Cantaloupe Bowl, Vegetabowls, $26
"Want to get noodles?", he asked. "What pho?", Mary replied. She was in a mild mood, but she was ready to spice up her day.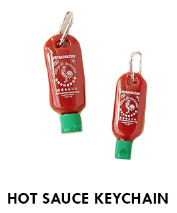 Hot Sauce To-Go Bottle Keychain, Ebay, $8
So off she and Juan went to the circus, the amusement park, and the zoo. They ate noodles, cotton candy, and played in the sunshine until it was time to go home. It was a fun filled day, all in good measure.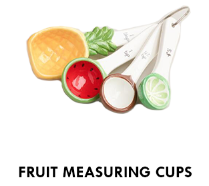 Tropical Fruit Measuring Cups, World Market, $7
The day was complete. Mary peas-fully cozied herself into her bed, ready to dream about tomorrow's adventures.
Peas Pass the Salt Shaker Set, Walmart, $15
Peas Pass the Salt Shaker Set, Walmart, $150
We've only grated the surface of our foodie favorites. What are your most delicious kitchen ideas? Tell us about your foodie faves in the comments below!

& Team Eat! Be Mary!