Spring Screening! A Foodie Flicks Watch List from Eat! Be Mary!, Inc.

April 11, 2017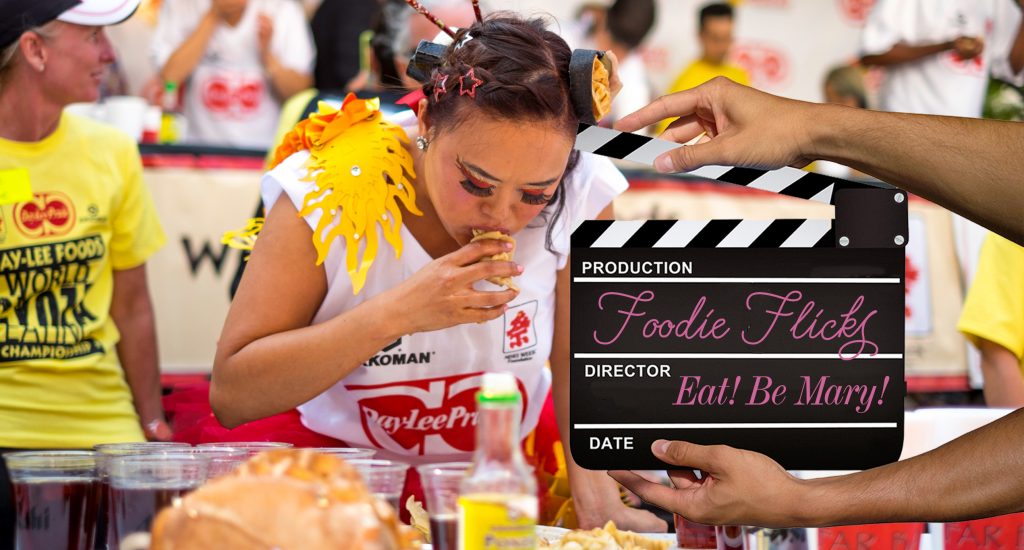 "Something with eggs…. Cool Hand Luke! Cool Hand Luke in an egg eating contest!"
"Hmm… perhaps not."
.
Pitch Meetings of the Eat! Be Mary! Editorial team have a particular zest. Things can get heated. We're quick to green light
a personality quiz on what kind of pie you are
(because that's important), but we do raise eyebrows at nods to certain classic competitive eating cinema moments. We had a contentious debate on the merit of Cool Hand Luke.
.
Between you and me, Cool Hand Luke is laughable to true competitive eaters. Paul Newman may have a jawline that won't quit, but 50 eggs?! Is that is? The record currently stands at 141 in 8 minutes. Pride won't allow me to endorse the movie.
.
However, these are some flicks with foodie moments we can flack.
Waitress
.
.
You had us at "I Don't Want Earl's Baby Pie" (Quiche with egg and brie cheese with a smoked ham center). They say,
don't eat your feelings
, but this movie makes a case for it. We love Jenna's natural pie prowess, and how she uses food to cook up her thoughts, cope with her struggles, and resolve to launch a new life.
Ratatouille
.
This story is great because it's so relatable. Who among us hasn't found themselves being remotely controlled by a far more skilled rodent? It's a rite of passage! This movie teaches us that talent is indiscriminate, and can come from the least likely of sources. It also teaches us to dream big and never fear exploring an unlikely interest.
.


Cloudy With A Chance Of Meatballs

A world where delicious free food falls from the sky? This is climate change we can get behind. If you're like us, you might also still feel a twang of hurt in your soul and your stomach when all hell breaks loose and spaghetti attack the town. Certainly there has to be a way for this utopia to exist without great threat to humanity? Can't we go back to those blissful first few days where it rained breakfast and we feasted in celebration? Moreover, can we fund research to make this real life?! Come on, NASA!
Matilda, The Bruce Bogtrotter Scene
When the dreaded Ms. Trunchbull "punishes" Bruce Bogtrotter by forcing him to eat an enormous, questionably produced chocolate cake to an audience of anxious peers, the circumstances seem dire. But with the help of our bright heroine, Matilda, Bruce turns what's supposed to be a humiliating experience into an empowering one, masterfully eating the entire cake to the cheers of his classmates. Eating can be an intimate act, and unfortunately, some people even find shame in eating in front of others. Competitive eaters bring fun and pride to the process of eating, and we love seeing the mindset switch from shame to celebration very clearly in this movie.
Julie & Julia
"The day there's a meteorite heading toward the earth and we have 30 days to live, I'm going to spend it eating butter." We hear that! As Julie cooks 524 Julia Child recipes in 1 year, we indulge in the resultant food porn (Can someone check the rating on this flick? WOW! Beef bourguignon 🐮). This delicious story of determination, learning, cooking and finding the joy in process makes our mouths water and our hearts soar.
Stand By Me, Lardass And The Pie Eating Contest
The Pie Eating Contest Scene in Stand By Me is a completely accurate and realistic portrayal of Major League Eating Contests…. NOT! We cringe….. However, we forgive this crude "Reversal Of Fortune" revenge story and mashup of MLE stereotypes because it exists only in the fevered imagination of our 13 year old protagonist, and we never squelch creativity (we do belch it occasionally 😅 ). After we make adjustments for this allowance, our score sheet still reads super high for this timeless coming of age story that taught us to value our friendships, grieve whole-heartedly, dream beyond our humble beginnings, and for the love of pizza, get our butts OFF the train tracks.
Food is inextricably tied to life, and not just biologically. We love how every film portrayal has less to do with the actual food, and more to do with life.
Tell us what's next on your Watch-List or what we should add to ours!?

& Team Eat! Be Mary!
(Answers To Our Social Media Quiz: Spiderman, Silence Of The Lambs, Harry Potter)