2016 Nathan's Famous Hot Dog Eating Contest
Surf & Stillwell Avenues Coney Island Brooklyn, New York

July 4, 2016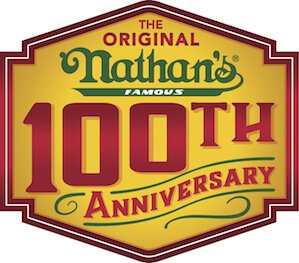 2016 Nathan's Famous Hot Dog Eating Contest – ESPN3 Surround (Women)
10:50 AM EDT
2016 Nathan's Famous Hot Dog Eating Contest – Women's Competition
10:50 AM EDT
2016 Nathan's Famous Hot Dog Eating Contest
12:00 PM EDT
2016 Nathan's Famous Hot Dog Eating Contest – ESPN3 Surround (Men)
12:20 PM EDT
2016 Nathan's Famous Hot Dog Eating Contest
3:00 PM EDT
2016 Nathan's Famous Hot Dog Eating Contest
5:00 PM EDT
2016 Nathan's Famous Hot Dog Eating Contest
7:30 PM EDT
2016 Nathan's Famous Hot Dog Eating Contest
11:00 PM EDT
LIVE Pre-show begins at 10:00 AM Eastern Time
The 2016 Nathan's Famous Fourth of July International Hot Dog-Eating Contest will take place in Coney Island from 11 am to 1 pm Eastern on Monday, July 4, 2016. The annual contest reportedly was first conducted in 1916 and will be held this year as part of 100th Anniversary celebrations at Nathan's Famous flagship restaurant at the corner of Surf and Stillwell avenues in Brooklyn, NY.
Pre-show festivities will start at 10:00AM with performances by a variety of musical and dance acts. The women's competition begins at 11:00AM, while the men's competition will start at 12:30PM.
Matt Stonie of San Jose, CA shocked the world last year by claiming the championship for the first time. Stonie, previously the second ranked eater, defeated his toughest rival, 32-year-old Joey Chestnut, also of San Jose. Chestnut had gone undefeated for eight consecutive years. Stonie ate 62 Hot Dogs in 2015, two more than Chestnut. Chestnut holds the world record for eating 69 Nathan's Famous Hot Dogs and Buns in 10 minutes.
In the women's competition last year, Sonya Thomas of Alexandria, VA, who set a world record by consuming 45 Hot Dogs and Buns in 10 minutes, failed to reclaim her title from Miki Sudo, of Las Vegas, NV. Sudo claimed the championship, eating 38 Hot Dogs, seven more than Thomas.
In recent years, an estimated 35,000 fans have made the pilgrimage to Surf and Stillwell avenues in Coney Island to watch the contest in person. The ESPN telecast of the event routinely draws an audience of millions of viewers. As part of the event, Nathan's Famous makes a donation of 100,000 Nathan's Famous hot dogs to the Food Bank for New York City.
According to archives, the Nathan's Famous Fourth of July International Hot Dog Eating Contest has occurred each July 4th in Coney Island, NY, since 1916, the year Nathan Handwerker opened the legendary restaurant. Major League Eating, the governing body of all stomach-centric sport, sanctions the Nathan's Famous Hot Dog Eating Circuit and ensures the contests are judged professionally and that safety standards are in place at each event.