A Serving of Gratitude: From Frankfurters and Beyond

November 21, 2017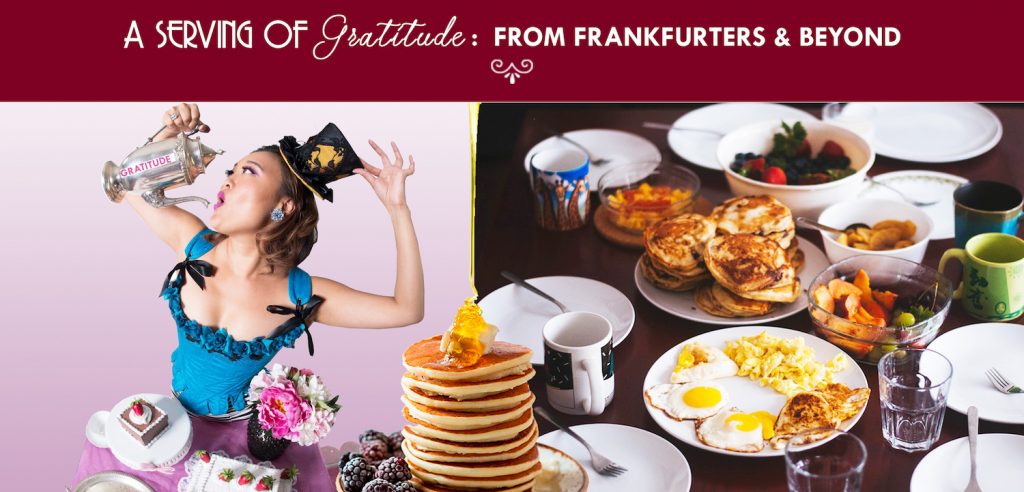 If you were to walk into my dining room this morning, you would find me somewhere in the middle of a mix of cups and plates. There's three kinds of tea: iced carrot-top, steamy earl gray, and warm ginger! I have freshly squeezed orange juice, pressed the old fashioned way (without the help of a fancy juicer). In front of that, you'll find a pitcher of water, and sun shining through the glass. I brought out the fancy China set, with golden rims upon pearly white. Cheesy scrambled eggs, fresh fruit, and blueberry pancakes stand like towers across my table. It is as much a feast for the eyes as it is for the tummy.
No, it is not "training" for another contest. It is quite the opposite, in fact. This weekend belongs to me. I'm celebrating…
When faced with an important task, it is natural to narrow our focus and set our sights on what is ahead. In my case, the past weeks and months have been focused upon earning my place at the Major League Eating table. The demands of daily life haven't changed. I still have to pay the bills, do the laundry, and load the dishwasher. But food has been a pervasive force, setting the priorities for everything from sleep, to socializing, to exercise.
Though the adjustments are completely voluntary, it doesn't always feel that way in the moment. I prefer playing with my friends until the early hours of the morning to going to bed at 9 pm. I like sleeping in on Saturdays. I enjoy sampling tiny cakes from the dessert tray at my favorite restaurant. These are by no means enormous sacrifices, but they are still painful to a free spirit like mine when placed upon the altar of competition.
With months of preparation and victory behind me, my sights refocused on one of the most magical places I know: the grocery store.
Aisles upon aisles of beautiful packages of cereal, pasta, deli meats, and dairy greeted me like a long lost friend. "Where have you been, dear?", they beckoned to me. I paused among the apples and oranges, picking up every kind and every color to admire their lovely forms. Kale! Spinach! Potatoes, onions, beets! The produce department was a kaleidoscope of abundance.
I filled my cart with fruits, vegetables, eggs, and cheese, imagination running wild with possibilities. Visions of souffle, dessert en flambe, roasts and salads filled my happy heart. I couldn't wait to fire up the stove!
As I left the store, a humbling thought occurred to me…
The short window of time when I choose to forego my favorite dishes or activities in order to pursue other priorities is a privilege. For too many around the world, the prospect of making such a choice is far from reality. For them, it's not about sacrifice. It's a matter of survival. Poverty and famine are the pervasive forces that set the priorities for the day.
And I wondered…
What would it take to redefine the parameters and create new rules for that game? Could making headlines ultimately lead to making history? What is the legacy I would like to create?
As my pancakes stare back at me with smiling blueberry faces and whipped cream hair, I am grateful to be able to compete in a sport that resets my focus when I too often take things for granted. I am thankful for my three kinds of tea, for my orange juice, and for the sunshine sparking through the glass pitcher on the table. I'm thankful for the choices I can make to alleviate someone else's pain, no matter how big or small the gesture.
The world has a way of reminding us who we really are, if we are willing to pay attention. Don't be surprised if the messenger who delivers one of life's greatest lessons happens to come in the form of a hot dog, or a dumpling, or a pie. For me, food has made all the difference.