Dear Adoptees

June 15, 2023
Dearest adoptees,
In the months since the first claim was filed with Korea's Truth and Reconciliation Commission, I have had the honor of meeting many of you both online and in person. On the days when I have felt lost, you have been there to find me. When I have felt sad, you have shared in my moments of grief.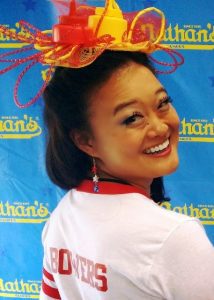 Today, I'd like you to join me in sharing a moment of joy. On July 4th, I will become the first athlete in the history of competitive eating to represent South Korea in the Nathan's Famous International Hotdog Eating Contest.
The annual competition is held at Coney Island in Brooklyn, New York and is attended by an estimated crowd of 40,000 people. For those of you who will be joining my 7 million friends on the ESPN broadcast for the first time, the rules of the game are this: Competitors must eat as many hotdogs and buns as they can in 10 minutes. You must eat the corresponding hotdog and bun for it to count towards your score.
I am setting my hotdog eating goal for this year at 16 – one hotdog to represent each of the 16 Australia-US Korean Rights Group (AUSKRG) adoptees who submitted a TRC claim. I would love to eat more, but with nearly 400 total claims submitted, I think my stomach would protest. After all, the current world hotdog eating record is only 76.
So instead, I would like to invite you to join me, alongside the AUSKRG, in sharing your stories on social media in the #16for16 campaign. It can be your adoption story or simply a picture with you and your favorite hotdog with #16for16 to show your support.
In addition, you can sign the petition asking for US Congress to join other nations around the world in launching an investigation into Korean adoptions. You can find the link at: change.org/AdopteeKoreanTruth.
You all have incredible talents and abilities to share with the world – from legal expertise, to research, to the arts. I know my abilities are odd, but perhaps that's exactly what it will take to beat the odds when it comes to changing the historical legacy of adoption. I am your biggest fan. I will cheer for you always. Thank you for letting me be in your corner. I hope to make you proud.
With love and hope,
Mary