Discover Your Dumpling Destiny

August 25, 2017
Foodie fashion is always in style. Which shoes make your toes twinkle?
Stuck in traffic again! What are you playing for carpool karaoke?
Your BFF just snagged a dumpling off your plate without asking. How do you feel?
After a busy week, you're ready for some "me time!" Where would you like to go?
You've explored and explored! What a wonderful day! Time to refresh… What fills your goblet?
What foodie delicacy piques your curiosity and appetite?
What are your travel resolutions?
Discover Your Dumpling Destiny
Gyoza In Japan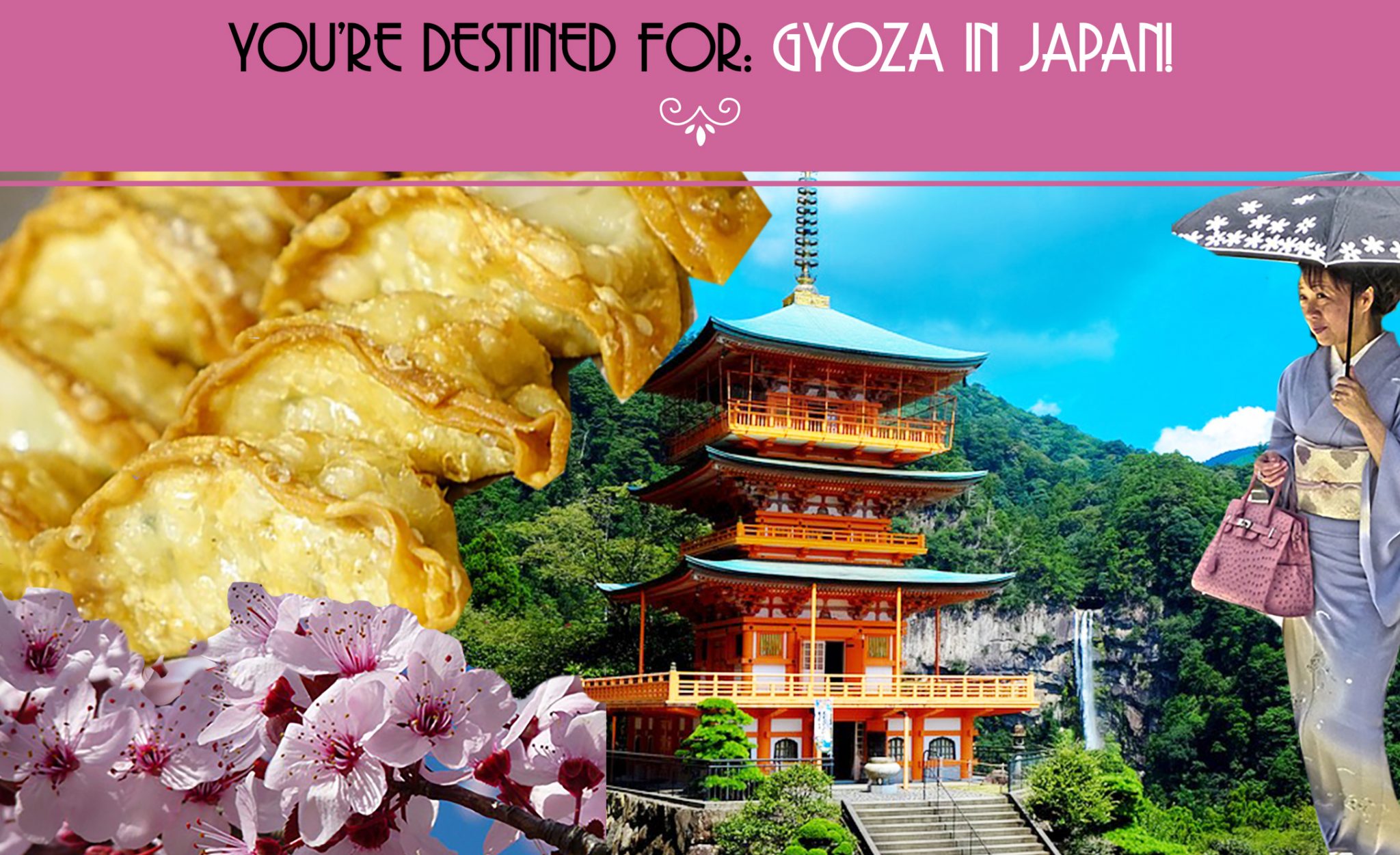 Are you all packed and ready to Gyoza? You're heading to Japan! Be sure to bring hiking boots. The Japanese have deep affection for landscape, and why not? Almost four fifths of Japan is covered in beautiful mountains! But watch your step – with over 200 active volcanoes, it's possible our favorite "the floor is lava" game is Japanese derived! The Japanese are known for their work ethic and innovation. Foodies can appreciate the fruits of their labor – specifically, square-shaped watermelon and white strawberries! As you stroll through the Japanese markets in Tokyo, feast your eyes on incredible Harajuku street style while you sip a matcha bubble tea. Visit a cat café for a purrfectly adorable experience like none other. Or take a trip to an exotic temple, where you can digest your life decisions and desired direction. And of course, your Dumpling Destiny would not be fulfilled without plenty of gyoza. Gyoza are descendants of the Chinese Jiaozi dumpling, which has been around for 1800 years. It's always good to mind your historeats!
Pierogi In Poland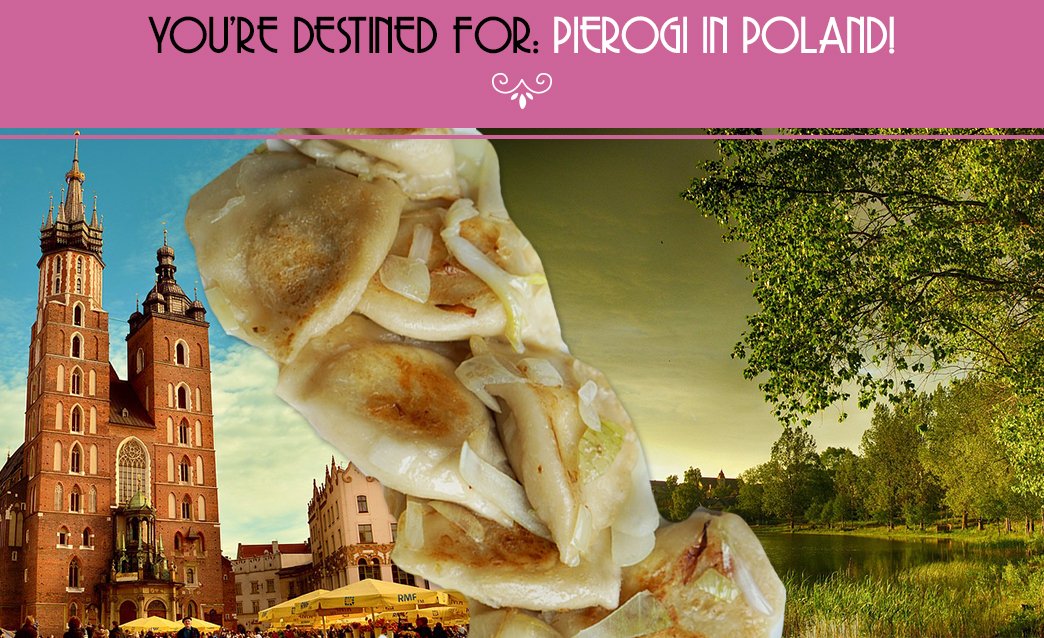 Whoever crafted the first of this dumpling was a pierogenius! Pockets of dough wrapped around sweet or savory fillings and boiled… destined to be dined upon. In your travels to Poland to fulfill your dumpling destiny, you will find a variety of delicacies just as delicious. Let's just say, Polish sausages are not the wurst! A fruit soup made of cooked rhubarb, strawberries and cherries in a milky pasta sounds delicious, so be sure to try some Zupa Owocowa. The name is a mouthful and so is the dish! Poland has a rich religious history, full of tradition. Visit a Catholic cathedral to learn about what so many find to be a guiding light. Folk tale legends are alive in Poland! Polish forests create a perfect habitat for endangered species, such as brown bears, wild horses, gray wolves, and the elusive Eurasion lynx. Begin your forest stroll by whispering the words, "Once upon a time..." and enjoy the adventure.
Gnocchi In Italy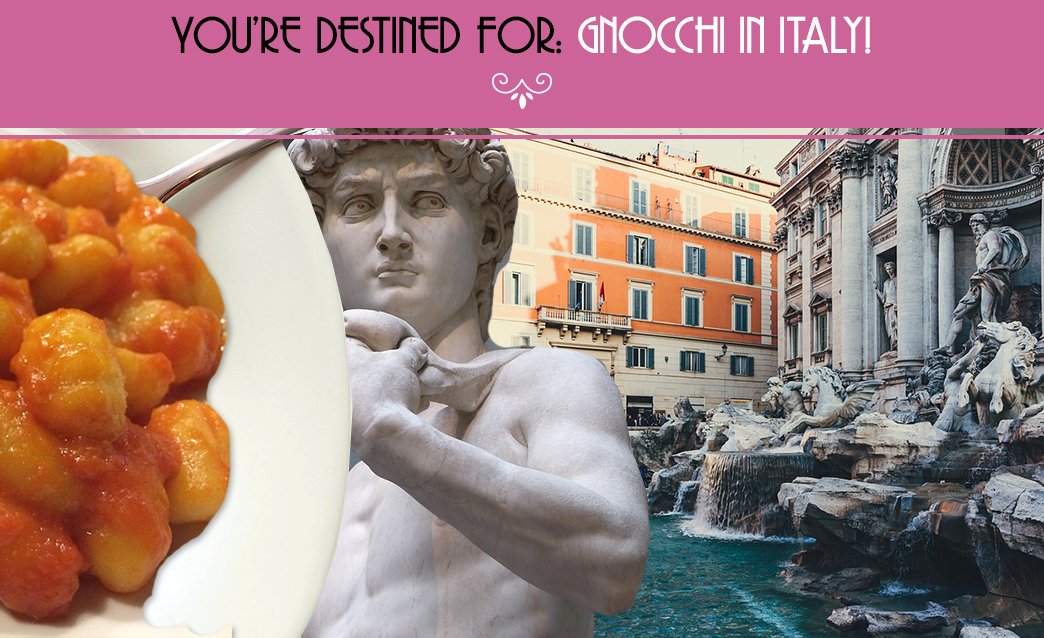 Give home the boot for a week. Head to the stiletto-shaped peninsula of Italy for Gnocchi nomad life. In between bites of your Italian foodie classics, try a pizza lesser-known delicacies on for size. Arancini are rice balls with mozzarella fried in a breadcrumb exterior, sure to make oil painted cherubs sing in celebration. The leather market and Coliseum are best accessed by moped – look out world! Give a wink to "The David" statue, and stand in awe below the majesty of the Sistine Chapel (or "Sixteenth Chapel" as renowned Italian cultural guide Justin Bieber once put it). From Da Vinci to Michelangelo and beyond, Italian art has influenced the world for centuries. Grab an easel and create your masterpiece. We recommend our edible paint recipe on the blog because one gets pretty hungry between brush strokes, painting gelato, pasta, and calzones. Some countries worry about the economy staying afloat. But Italians confidently store nearly $1.5 million under shallow water. That's the value of all the loose change thrown into the Trevi Fountain in 2016 alone! What will you wish upon a Euro for?
Wontons In China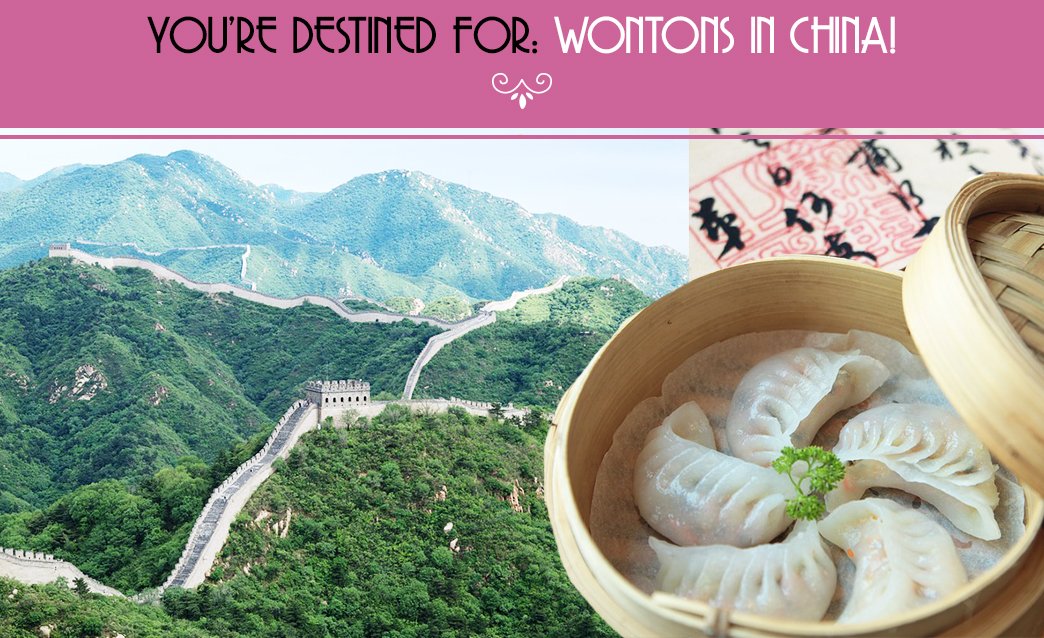 Nǐ hǎo! Your Dumpling Destiny leads you to China and is filled with Wontons! How many should you eat? Well, how many would fill the volume of the Great Wall? At 3,100 miles from East to West and 3,400 miles from North to South, China might be the only thing bigger than a competitive eaters' appetite. It will always leave you wonton more. Its vast expanse and diverse geography offer endless scenes to explore: marvelous mountains, high plateaus, sandy deserts, dense forest, and bustling cities! But you should make your first stop a Panda Petting Zoo - the cuteness causes massive pandamonium. Did you know credit cards aren't much of "a thing" in China? The powerful global player is ahead of us on paying with their phones! Today's Chinese entrepreneurs are known for their international perspectives. They've got the whole world in their handheld device. If you're into vintage, try the Century Egg, an ancient and modern Chinese delicacy consisting of a preserved, hundred-year-old duck, chicken, or quail egg.